New blog just in from Jason McKinlay and Josh Tarr onboard Savoir Faire sheltering from the storm at anchor in Blackrock harbour, just south of Dublin:
  That's what I call a greeting.. As we approached Dublin, a small yacht came out to see us in. 00:55 in the morning and we hear the words "Savior Faire, welcome to Dublin!"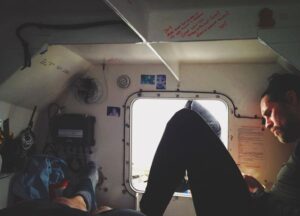 We've been out of contact these last few days for obvious reasons. We're carrying at our own pace as we were before. Every 90 minutes session is tough at the moment battling these winds and tides.
  In the middle of the Irish Sea, where there's nowhere to anchor, its pretty relentless. We still have luck on our side for now though because even there's no difference in the colour of the sky to the ocean (truly magnificent AND a little bit surreal), the winds have been in our favour.
  We changed our plan yesterday to 2 hours on 2 off to enable us to recover from the stint. It makes sense because it takes 15 minutes to get everything and into sleep mode before we put the cold wet clothes back on and row again! The extra half hour doesn't feel bad on the oars, but its certainly most welcome at rest time.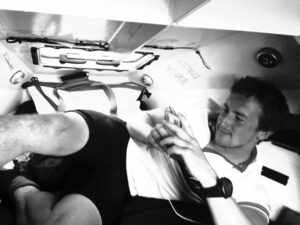 Back to 90 minute slots now, as we head towards Dublin (not for a night on Grafton Street) but for shelter from the Westerly Storm on its way tomorrow morning. I (we) suspect, that too, is what The Islanders are doing…Josh and I can't thank you all enough for your wishes and support. We hope to do it some justice.
   Memorable moments :1) Screwed in the arse – after days of complaining of a sharp pain, turns out the screws fixing the cushion to the seat were poking up just beneath the surface of the cushion?! #designfault
  2) Wishes – niece Morgan tells me that at the wishing fountain she wished I would do well in this challenge (choked me up) then Summer tells me she wished for a pony
  3) Emotional goodbyes -… strong hugs, tears and amazing words from friends and family (thank you)
  4) Night(mare) – Rowing towards Ireland in pitch black (cannot see waves or horizon) and trying to row beam on for our bearing.. Then working out actually we need to sit this one out in shifts, minimise the 3 knots towards a lee shore 30 miles away until dawn…
  5) Dolphins – playing in front of our boat in some turbulent weather
  6) Salcombe – anchoring up at home, brother and mate kayaking out to see us followed by friends and family on boats and lifeboat!
  7) Extremes – after the night of trying to hold the pace back to avoid a lee shore, we had exactly the same conditions the next night but without the lee shore.. Hell for leather, can't see a thing but managed 9.5 miles in 2 hours with one of us on the oars including 10.1 knots on a wave.
  8) Necessities – you know it's a serious number 2 when you have to harness up, put a life jacket on and brace.
  9) Time fillers – If there's nothing else to do, why not rig up the iPad like a TV, hook it into the speakers and watch Ice Age 4 together? Date night 12th June. Ooo tonight I better get ready!
10) Puja – Priya, Aarti and Rishni very kindly blessed us before our journey and Ganesh is here with us in the cabin, looking after us so far, awesome!