Savoir Faire are at anchor just south of Happisburgh on the Norfolk coast, 139miles from the GBRow 2013 finish. At this stage it now looks likely they will reach Tower Bridge early on Friday afternoon (July 12). This will be revised during the week as they approch London.
After making the 100-mile crossing from North Yorkshire to North Norfolk, Jason McKinlay and Josh Tarr both posted blogs that tell the tale of the big crossing:
Getting to Bridlington was a great challenge within a challenge. We've had many of those. We try and balance out humour, humility and getting a true picture across to you so you can feel a little part if this. There's the sessions where we're completely wasted and just sleep for two hours before getting back on, and then the ones where the scenery gets you through. The general 24 hour routine,… looks like this: –
Row hard, eat, sleep, row hard, eat, sleep, row hard, sleep, anchor.. 2 in a cabin for a few hours, then it again..
The best session of the day seems to me to be between 2-4am, when first light breaks though, or 11-1 where last light leaves us for an hour or so… In Scotland, it stayed light all night!
A truly epic journey of character and emotions, physicality and decision making…
Now that's priceless…
Jason x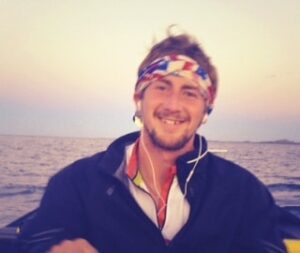 Epic few days – An update from both of us now we have signal!
From Hartlepool we made a big push to Bridlington, an ambitious target time was set and it was hard work through the sweltering heat..
The coastguard was flying around looking for a kid that had been swept out to sea in a small boat, a kayaker was helping with information through the VHF and thankfully all worked out and the kid got… back safe! It's a tricky place the coast!
We needed to anchor up for a few hours yesterday morning and shortly after getting comfortable in the cabin we heard a loud snorting next to us?! Neil (the seal) was literally a meter from us, we both squeezed our heads out the hatch at the back (stern) and watched him sweeping back and forth past the back of the boat, knocking the rudder! Really cool but we needed some sleep..
We set off again, made good time and arrived early to Bridlington! The plan was to regroup and see whether an open crossing to Norfolk would be feasible based on wind and tides.. All looking good we kept going ahead of schedule! A great couple days followed, blessed with fair weather!
We'll try to post about our individual experiences on the oars but anyone that has been following the brick can see we're anchored just off the Norfolk coast ready to work our way around to the mouth of the Thames at 6am!
It's so difficult to tell still but our best guess at this stage is arriving at tower bridge on Friday, we're doing our best! Spirits are high and we're keen to make every bit of progress we can. The tides are strong around here so we need to play it smart and make the most of the windows.
We should have signal from now on so there'll be a few more updates coming your way as we go..
See you soon
Josh & Jay x