As night falls, the Coast Girls are dragging both anchors, just 300 yards off the Kent coast.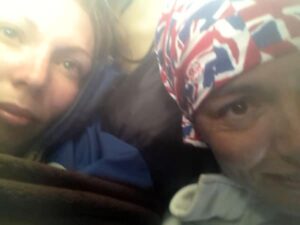 With Charlene Ayres still suffering from sea sickness, her rowing partner Sally Kettle is currently trying to re-set the anchors to prevent their boat Pendovey Swift being swept onto the shore north of Ramsgate. The anchors are failing to take a hold on the sandy sea bottom.
 Three hundred miles away, at the Lizard in Cornwall, Team Hallin, in second place, fear they may have missed the tide window to get to Land's End during the night, Race Director Chris Usborne reports tonight from Penzance.
 Their boat, Hallin Marine II, skippered by David Hosking is 17 miles from the most southerly point in Britain.
 Race leaders The Islanders caught the tide just right and as the sun sets on day five of GBRow 2013, the team of four young men in their boat, the Black Oyster have five miles to go to Land's End.
 If  Team Hallin do miss the tide and have to wait until morning before reaching Land's End, they could be caught by Oarsome Adventures, currently in third place, 13 miles behind Team Hallin.
 Keep a weather eye on the race tracker to find out how the drama plays out in the short mid-summer night…