Savoir Faire, the last boat still racing in GBRow 2013 – the world's toughest rowing race – is safely at anchor inside Arbroath Harbour, with strong winds forecast for the next two days.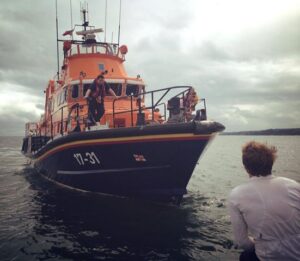 Jason McKinlay and Josh Tarr made just 15miles in nine hours today in difficult conditions – so difficult in fact that the local lifeboat paid them a visit off Montrose because they thought the pair, from Salcombe in Devon were in trouble!
Here is a blog Jason and Josh filed from the boat during the day – four weeks exactly since the race began at Tower Bridge in London:
"Pushing on from Montrose towards Edinburgh. We made a little more progress than expected yesterday by doubling up, so we'll do it again today. Solo for the opening sessions of the morning, then 'hopefully' against the tide we'll be able to stay on the oars together until AT least we reach Fife Ness point.
If we make it that far today we'll be delighted.  From then on, well who knows really? We're told Saturday evening, Sunday and Monday could be written off… Onwards.
 Scratch that! Here's what actually happened…Mammoth day. All amazing. Both on the oars since 3.30am, and just stopped now (12.30) because of strong winds. 15.1miles in nine hours…if you crawled on your hands and knees you'd go further…but it is windy!! Goodnight (afternoon)
 We'll push on against the wind with two on the oars when we can. We managed eight hours together today and the wind won that battle…"