GBRow 2013, the world's toughest rowing race, has caught the imagination of Ireland.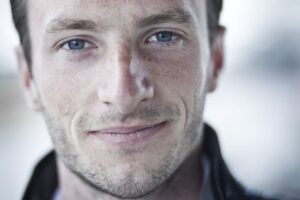 As the The Islanders stormed up the Irish coast – at times travelling at more than 5 knots, making use of the powerful tidal races off Wicklow on the Irish coast, the island's media were keen to talk to local rower Gavin Sheehan.
Irish international Gavin, 25, is a key member of the Islanders' team and today he returned to the oars after suffering a back strain on Friday in the storm waters  of the Bristol Channel.
The tide was against the crew on their boat Black Oyster for much of the afternoon but they still managed to make 2.5knots even against the tide.
Skipper Josh Taylor has recorded an audio blog, which will be posted shortly, in which he reveals how determined the Islanders are to get back ahead of the world  record schedule. Keep your eyes on the tracker tonight. They plan to head further out to sea to take advantage of the tide turn and try to catapult the boat up towards Belfast overnight.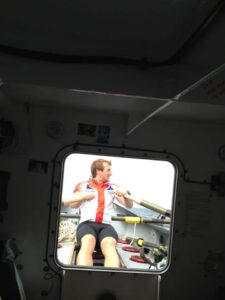 A hundred miles south, the pair of Josh Tarr and Jason McKinlay in Savoir Faire were making good progress in second place. This afternoon they were more than 70 miles north of Land's End. Around noon, they actually  passed the spot where the Islanders spent 36 hours at anchor in rough seas waiting for the wind to change direction and for Gavin to recover.
Jason and Josh are keeping  a log of their remarkable journey –  with jotted-down notes written on the cabin bulkead, as the picture they posted on facebook, below, clearly shows.
Don't forget to check out a bit later audio blog from Josh Taylor of the Islanders. They also posted on facebook a video of a pod of 20 dolphins chasing the Black Oyster in the Irish Sea yesterday.