The Islanders are now heading towards Tobermory and the iconic Skye Bridge in western Isles of Scotland on their 2,000-mile rowing odyssey around Britain's mainland.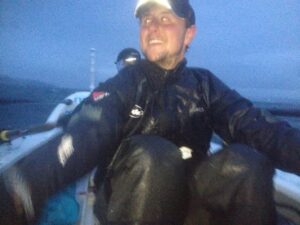 Josh Taylor and his crew of Alan Morgan, James Plumley and Gavin Sheehan now have a lead of more than 170miles over second-place Savoir Faire, who are still in the Irish Sea,  just south of Belfast.
 Last night, the Islanders reached speeds of six knots as they used the southerly squalls to good effect to push their boat the Black Oyster along in the sea off the island of Jura.
  In a brief message to GBRow 2013 Race HQ, Alan Morgan revealed that last night they ran into an 8knot tide that threatened to carry thme back the ay they had come.
  So, anchoring in the safety of a natural harbour at the north end of Jura, the Islanders waited for the tide to turn back in their favour but over slept slightly.
 This morning they faced the treacherous Corryvreckan whirlpools, between Jura and the island of Scarba, but they managed to row straight across the swirling currents that catch many boats unawares with out any problems.
  This afternoon, the Islanders were rowing at 3.4knots through the Sound of Mull towards Tobermory and tomorrow's objective the Kyle of Lochalsh and the world-famous Skye Bridge.