The Islanders now have less than 400 miles to go to the finish in London. Inching their way down the east coast of Scotland, they are now near Carnoustie, with 43miles, as the crow flies, to go the English border. 
 After battling yesterday to repair the watermaker onboard the Black Oyster, skipper Josh Taylor reports today that the boat's batteries are not holding their charge well.
  To beat the world record for the fastest non-stop row around Britain, Josh, Alan Morgan, James Plumley and Gavin Sheehan, have t reach Tower Bridge before 5.30am next Friday.  Can they do it in the remaining six and a half days? Keep watching the tracker, folks.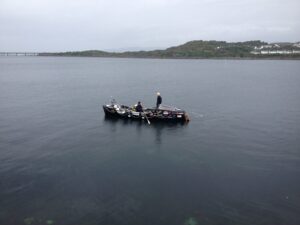 Meanwhile, Jason McKinlay and Josh Tarr in second-place Savoir Faire are preparing to round Cape Wrath tomorrow – with storms forecast for Saturday afternoon and evening.
 They are now as far north as Ullapool, just 40 miles from the most north-westerly point in the 2,000-mile race around Britain's mainland.
 While Josh was on the oars, Jason explained that they will row to a bay seven miles from the Cape and then wait for a weather window.
 He said: " Originally, we were told there would be 40-knot winds in the area but the forecast has now fallen back to 20-25knots. If with wind is the right direction we might go for it in those conditions.
 "But we will wait and plan for the conditions we find when we get there. We have come so far and it would be silly to risk all we have achieved by not waiting until the conditions are right.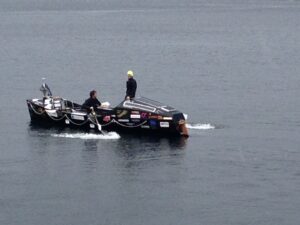 "Last night, for example the sea like glass it was so calm but at 07.30 – just as forecast – a westerly wind appeared and we couldn't row against it, so we stopped and waited until the conditions changed in our favour."
 Yesterday Josh's parents, Paul and Yanine Tarr were waiting at Skye Bridge to greet Savoir Faire. They had driven nearly 500 miles in their camper van from their home in Devon to be there.
 Jason said: "It was wonderful surprise and Josh certainly appreciated them being there. We managed to come in quite close to the shoreso we could speak to them."
  We have included a couple of Yanine and Paul's photos in this blog.