Dedicated Row to Oliver Jay Mckinlay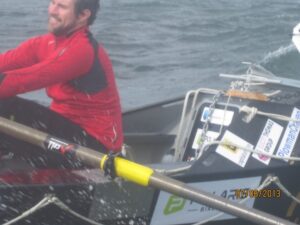 My little boy has been with me almost every stroke but this 2 hour last session his smiling face was there constantly in my thoughts.
 Ollie couldn't make the start from Tower Bridge due to contracted a virus in his eye a few days before. Doctors at the hospital reassured Sarah and I that he was absolutely on the mend or I wouldn't be here now.
 This row, indeed all my challenges, are about endeavour. They are also about dreaming and dreaming big.
 Erling Kagge (one of my favourite writers) said "Find your own North Pole to conquer"… For me, it's all about writing a story…
 Today's page will be full and hopefully so will tomorrow's. My children will get to read this story in years to come and hopefully see something worth reading..
 For my boy. I love you with all my heart.
 Daddy xxx