57 01.771N  02 08.100W (421 miles to the finish)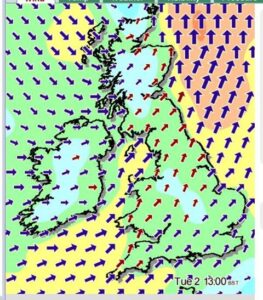 Bad times. Looking at the winds for the next five days we're going to hit some strong south-westerly winds mixed with other unfavourable conditions…Unfortunately this could set us back a few days. Luckily we have plenty of treats.
 We're hopeful of 39 days but that's a big ask, looking at the forecast. We'll do our best.
 In the meantime, we've generally had some fortunate weather until now, so we can't complain. It would just be nice to get back to our family and friends…We'll get there!
 They say red sky in the morning, shepherd's warning.
These shepherds know what they're talking about, this was the sky we saw this morning. It's now rain and grey skies. We can handle that. It's the southerly strong wind that just about to come our way that's making life that little bit frustrating but when we consider how far ahead of ourselves we are, we have to smile.
 We have to make a big push together on the oars when we have a tiny window of opportunity later today. We'll try together as long as we physically can to find shelter from the oncoming bad weather. Then we'll just have to wait and see…
 Big love, JT and Jay Mac.