Jason McKinlay on Savoir Faire filed this latest blog on Jun 14, from just north of Dublin:
Anchored up again at last waiting for storm to pass. Gale force winds up to 48mph coming through in the next few hours… Had to get out of the wind and shelter. We're in Clogherhead until 1am then out again…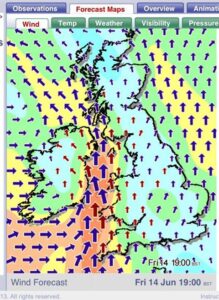 This decision was made after speaking to our Nav guy on land who suggested we didn't push on as was our thought at the time. It's easy to look at what's happening now and go hard… The reassuring words "you just don't want to be in that weather" mean that Mike Broughton is doing exactly what we need at these times.Still in the game…
Earlier Jason wrote: Just finished my 2 hour slot 11:30-01:30 and time for a nap. The sequence of events as today unfolded, as Josh said, meant we were stuck in the cabin most of the day so great to get back out on the oars after our longest enforced stop… Hopefully not too many of them…Holding 3-5 knots between us, one at a time… Nice!