Blog from Jason at anchor in the Thames upriver from the QEII bridge at the Dartford Crossing: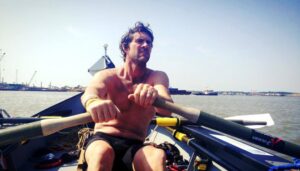 So its nearly done.. Almost 2000 miles of The British Isles, two men in a small boat. It's been a truly wonderful experience, with more high's than we thought we'd have. The only low points, if any, we're waiting for tides to change so we could carry on the challenge and of course those winds. What we've come to realise, is that those moments of waiting we're as big a part of the challenge as rowing at 10.2 knots in the stormy Irish Sea.
 My favourite bits: 
 The Scottish coastline is breathtaking (apart from Peterhead. I'm taking them some paint for the houses!)
 Everywhere was beautiful in different ways and that's just it. The contrasting scenery of The British Isles is truly amazing. Each changing with the changing conditions.
We know we had incredible weather and wind for the first few weeks but we've also been dealt our fair share of the tough stuff too. We've had decisions to make and made the right ones and when there's no decision to be made, we've weathered the storms.
 This entire epic journey would have been extremely different, genuinely, if it wasn't for your support and encouragement along the way. Breaking this record and establishing a challenging feat for someone to break in the future for two men on the oars has been truly memorable.
 Thank again to everyone.. We cross the line tomorrow, all being well, under Tower Bridge around 12 to 12:30 with the tide.
 Jason McKinlay x